Contact Me! stacieehebert [at] gmail [dot] com

Sunday, July 31, 2011
Posted by

SEH
at 4:51 PM
No comments:

Monday, July 25, 2011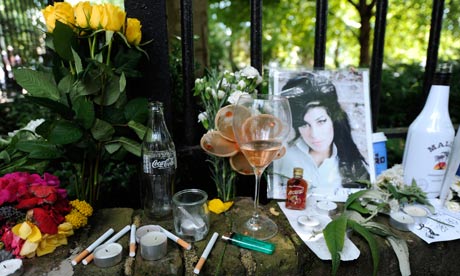 Amy Winehouse: Why is there so little understanding of addiction?
Winehouse walked barefoot through the streets because that is where the drugs were, and even as her bewildered face splatters across the front pages, drug support charities are closing, expendable in this era of thrift.




And she died for nothing because she thought she was nothing.




Not that we will learn; the beehive was too high, the eyes too photogenically tormented, the voice too beautiful. Her new album will be released and it will sell 10 million copies, maybe more. And there, reader, is your meaning. The addict is dead.
Posted by

SEH
at 9:00 PM
No comments:

Tuesday, July 12, 2011
Listen and download the podcast here!
Listen to Special Guests | Cheryl Richardson
: "Monthly Telegathering with Dr. Joan Borysenko November 30, 2009. The book is called
It's Not the End of the World: Developing Resilience in Times of Change.
Hear the extraordinary story of how Joan found resilience after a family tragedy, and was able to shift gears and begin a whole new line of work that has helped thousands of people. And, learn how to develop this kind of powerful resilience, too!"
Dr. Borysenko points out that resilience research shows some components of resiliency come from the characteristics of:
1. Realism
Have you ever thought that maybe a pessimist is a disappointed optimist or idealist?

"Pessimist complain about the wind. Optimists expect the wind to change. Realists adjust the sails."

Optimists tend to possess very little resiliency.
2. Faith
An openness to live in the moment.
3. Creativity
Posted by

SEH
at 10:32 AM
No comments: