Stand with Occupy Wall Street
MSNBC on NYPD Police Brutality during Occupy Wall Street Lawrence O'donnell (video)
An excellent piece of main stream coverage on this past weekend
MSNBC Article:
Who is occupying Wall Street? Not just your average Joe
October 6, 2011
BOSTON, October 6, 2011—The LGBT community is disproportionately represented among those who are victims of the nation's ongoing economic crisis. We are the un- and underemployed. We are the un- and underinsured. We are the homeless and under-housed. And we are disproportionately impacted by government-sanctioned discrimination and denial of resources and protections.
If any group understands the plight of the 99% given voice by Occupy Boston, it's the Commonwealth's LGBT 6.5%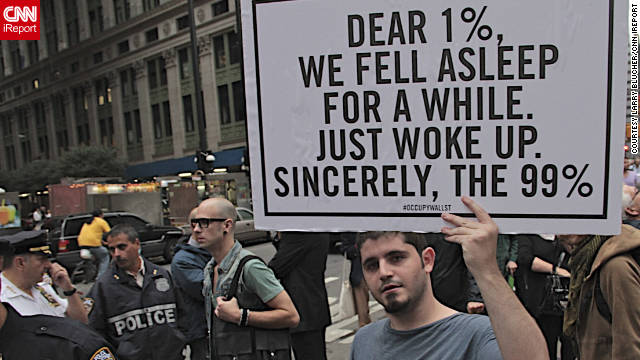 The 19-day-old Occupy Wall Street movement continues to gain momentum with the Left, as Democratic politicians, progressive groups and unions are joining the cause. Members of the
Service Employees International Union
, the
Communications Workers' union
, the New York
AFL-CIO
and the
United Federation of Teachers
joined today's big march on Wall Street.
"We're down with these protesters. We support the notion that rich folk are not paying their fair share," said Transport Workers Union President John Samuelsen. "Our bus operators are not going to be pressed into service to arrest protesters anywhere."
(video)
Again. NYPD white shirt attacks reporters and protestors by wildly
swinging a baton. The officer has been identified by Anonymous as Lt. Brian Connolly.
Occupy Wall Street has progressed from a small undistinguished movement to a front runner of national emerging protests within 19 days. This movement against corrupt corporations and Wall Street has quickly gained momentum within Middle America.
September 29, 2011
Video of Polic
e Using a Knee to the Throat of Protestor
September 25, 2011
Cops turn Violent, NYPD drag girl across the street (video)
September 24, 2011
PEACEFUL FEMALE PROTESTORS PENNED IN THE STREET AND MACED
by
NYPD

Deputy Inspector Anthony Bologna
(video)
Video
:
Arrested for yelling at a police officer. For shooting video. Dragged from behind the police line. For standing in the street.
Video
: This man was flipped over by his arm and twisted then arrested - for talking to an officer.